CAM Software Enables California Shop to Produce Racecar-Parts That are Precise, Versatile, and High Performance
Most Parts Made by Metalore Require Tight Tolerances, from Those that Shave Seconds from Racing Times to Those that Show Up in Emergency Rooms
You've only to walk through the front door of Bob Lewis' Metalore to see that this is no ordinary machine shop.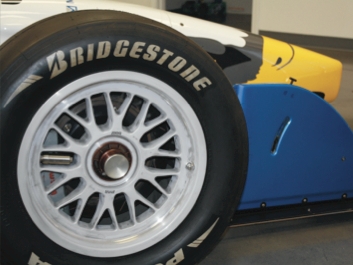 Built for Speed: A Metalore Front-Wheel Hub, Wheel Nut and Wheel-Nut Safety Stop on an Indy Car
Sure, there's the unmistakable scent of coolant, the stacks of designs and the smorgasbord of finished parts so shiny they put newly minted pennies to shame. But there are also the racing helmets and the big-as-life Formula 1 and Indy racing photos populating the walls of the unassuming El Segundo office.
The wall art, however, is about much more than a flair for dramatic décor: Building parts for the holy trinity of race cars — Formula 1, Indy and NASCAR, among other circuits — is Metalore's bread and butter.
"Half the guys here are into racing," says Lewis, a vintage racing enthusiast himself. "The other half wouldn't know a racecar if it drove over them."
It's clear, though, from the smattering of what appears to be coolant on Lewis' T-shirt, that he's less into the celebrity frills of the sport and more into its actual nuts and bolts.
Or, in the case of Metalore, its drive shafts and hubs.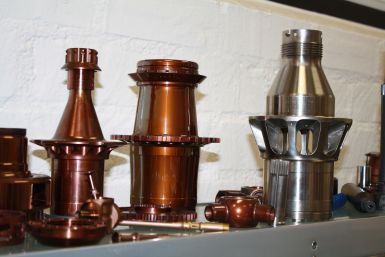 Newly-Minted Metalore Parts in the Form of Various Formula 1 Hubs and Wheel Nuts (Tall Parts)
Much more than a job shop, the company's interests lie in tough jobs — those that produce parts that require precision, versatility and, of course, high performance. In other words, its knack is for specialized technology, not production work.
Made primarily of titanium and 300M, these specialized parts are designed with winning in mind. Minute adjustments made to increase performance are serious business, and complicated parts are just par for the course.
"When you look at all of this stuff, you see complex surfaces everywhere," Lewis says, pointing out a rear drive hub for a Formula 1 car that features oblong holes and radii on two sides.
When it comes to machining parts at Metalore, staff must choose which operations will be performed before and after heat treatment. This is an important factor, as nearly every part rolled out of the company is heat treated, which can and does affect tolerances.
Parts are routinely machined after "heat treat," when the hardness will average 48~52Rc.
"Determining pre-heat treat stock allowances to minimize material removal after heat treat is critical," Lewis said. Allowing for the growth and shrinkage of 300M, 17-4 and aermet, a type of super-strength steel alloy, "make dimensional decisions challenging."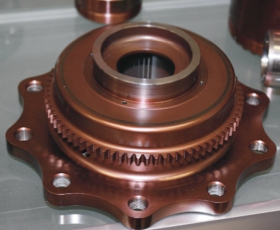 A Lemans Prototype Racecar Drive Flange, Which is Mounted to the Gearbox to Match Up to the Driveshaft
"The selection of tools and machining processes are temperamental after heat treat," Lewis adds. "The flexibility to generate 'unusual' tool paths after heat treat allows those tools and parts to remain stable and accurate."
Most parts made by Metalore require tight tolerances, from those that shave seconds from racing times to those that show up in emergency rooms. "Everything is within a couple of tenths," Lewis says.
Among the inventory of rock star parts designed and machined there are a racing rack-and-pinion assembly; special "show" pop-off valves for open-wheel racing, and a tripod U-joint that's part of a hub-assembly package.
Among its medical parts, Metalore counts a surgical-thread feeder and a multi-blade scalpel. And then there are the Metalore main transition gate valves that go up on every space shuttle.
Turning, milling, mill-turn and wire EDM machining are all used at the shop.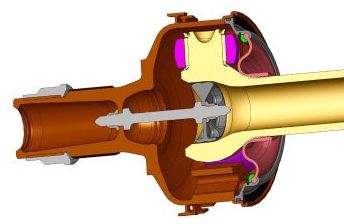 Open Wheel Tripod Assembly
When it came to ensuring that the company had the right tools for driving its machines as efficiently and accurately as possible, ESPRIT CAM software was chosen for three specific reasons: it's ability to program complex parts, the strength of its post processors, and the support provided by DP Technology.
Parts with multiple transitions increases the complexity of their geometry, and the racing parts produced by Metalore tend to require multiple transitions. Those parts also need to be light and strong if they're to serve the goal of winning the race.
"The ultimate result, in terms of racing, is that everything on the car would have reached its limits at the end of the race because you were able to make it as light and efficient as possible."
As some of the processes used to accomplish this feat are of the top-secret variety, Lewis can reveal some, but certainly not all, of what's cooking beneath Metalore's roof.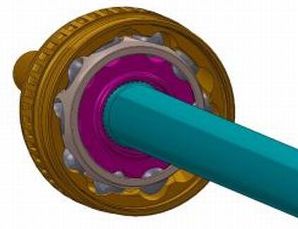 Porsche CV Assembly
In ESPRIT, Lewis is able to bring a complex solid model to life, see an accurate simulation of the finished part before he goes anywhere near a machine tool, and create the toolpath that will get the job done.
An upgraded graphical user interface also makes machining options clearer than ever —another feature that saves time on complicated parts. "As machines have gotten more complex, I think everyone's patience has gone away, too."
With ease of programming built into the software, options are laid out clearly and with enough wiggle room to allow programmers to choose the processes that they prefer. With familiarity and practice, users are free to determine what works best for them and for their shops. "In ESPRIT, you can smash things into lines and generate along those lines, and it's easier to do than surface finishes," Lewis says of one way the software has saved him time.
For the Metalore team, three-dimensional models "are not always about machining in three or more axes simultaneously."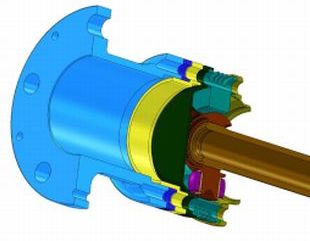 Caption Tripod Assembly
"The ability to slice and selectively connect features from a model allows for tool paths that maximize the rigidity of the tool, machine and fixture while accommodating the fragile nature of some parts," Lewis said. "It's not about giant surfaces. It's about the tool point of contact."
One significant use of the 5-axis capabilities in ESPRIT used by Metalore is in the production of wheel-gun socket and wheel-nut parts.
Metalore is the United States representative of Paoli pit guns, or impact guns used to change the wheels on most of the premier racing series worldwide.
The company not only rebuilds the guns as required by race teams, but manufactures the titanium sockets and 300M wheel nuts used by those teams. The wheel nuts feature pockets machined up to 1-1/2" deep with end mills of 0.158" in diameter.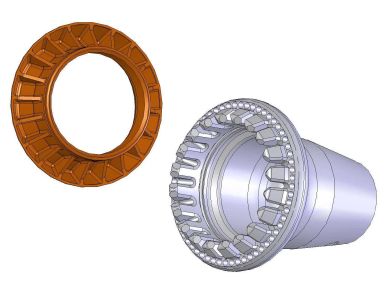 Wheel Socket and Nut
The 5-axis DMG machine charged with the manufacture of these pockets must rotate its two rotary axes to keep the tool normal to the surface and away from the hub of the wheel nut.
Without rotation away from the hub, the end mill would have to be extended another 0.75" to reach the bottom of the pockets. The many options in the software allows Metalore to move the tool around the pocket, clear corners and blend the wall surfaces to provide the quality component required for keeping the wheels on these high-tech racing machines.
Lewis has enjoyed the same flexibity with ESPRIT's post processors, which consistently generate accurate CNC code.
"You can do pretty much anything you want to with the ESPRIT post processors," he says. "The idea is to make the part that comes out look like what the guy wants to see —and that's what happens."
Want more information? Click below.